Highlights

LABORDE, Jean-Benjamin de

(1734-1794)


ZURLAUBEN, Beat Fidel Baron de

(1720-1799)


Tableaux de la Suisse ou Voyage pittoresque
fait dans les XIII cantons du Corps Helvetique, Representant les divers Phenomenes que la
Nature y rassemble, & les beautes dont l'Art
les a enrichis.


Paris: 1784-1786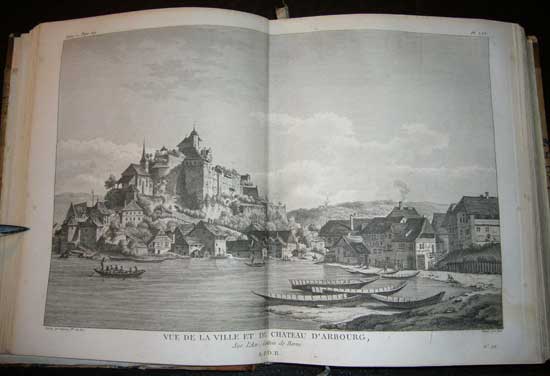 T
hirteen lavishly illustrated volumes (volume 12 in two parts) with 5 folding maps and a total of 430 copper-engravings most of them showing magnificent views of Switzerland.
For three centuries, 16th-18th century, the Zurlauben family had a major influence in both the political and economical life of the Canton Zug in Switzerland. Many of the family members held prominent positions in the military, in the church and in the political and administrative spheres.

Jean-Benjamin Laborde was a French composer and author. As a young man from a wealthy family he was introduced to the court of Louis XV and became the confidant and favourite of the king. After the death of the Louis XV (1774) Laborde settled down, married and cultivated his interest for music. He composed several popular operas and wrote books on history and geography as exemplified by the book series above. He was executed by the guillotine 1794.