The Donation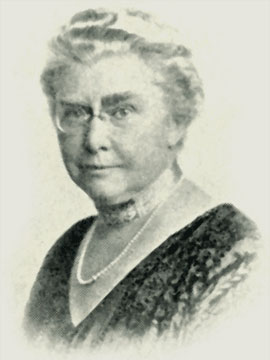 Anna Nobel (1866 - 1928)

nna Nobel was born in 1866 as daughter to Ludvig Nobel the main founder of the Russian oil industry in Baku. For more information about the Nobel family see Further Reading. In 1890 she married Hjalmar Sjögren who had worked as geologist for the Nafta Company of Ludvig Nobel the previous four years. In 1928 six years after Hjalmar Sjögren´s death she acted on his expressed wish and donated the library that he had collected over the years to the recently founded IVA.

The donation comprised of about 10 000 volumes of books, reprints, maps, and manuscripts (including some personal notes and letters) all estimated at that time to a value of 100 000 SEK.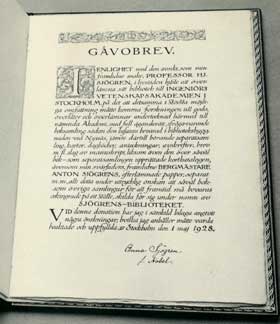 The Donation Letter
The donation
stipulates that…
the books should be kept in one location.
the library should be arranged according to the system of Hjalmar Sjögren.
the collection should be made accessible to researchers under the supervision of a dedicated person appointed by IVA.
by publishing catalogues or through other means make the collection as widely known and useful as possible.

The following list shows the inspectors for the Sjögren Library over the years:
Axel Gavelin (

1933-1949

)
Per Geier (

1949-1966

)
Stig Ekelöf (

1967-1981

)
Boris Serning (

1982-1984

)
Jan Hult (

1985-1995

)
Ulf Langefors (

1996-1998

)
Nils Åslund (

1998-2006

)
Andras Gedeon (

2007-